Hats off to anyone who's ever had a real-life experience with a shark and lived to tell the tale. As for the rest of us, we've obviously thought of sharks at some point in the open waters. While it might not be as extreme as galeophobia, the thought of such creatures wandering right next to you in the deep can be terrifying.
However, it's sad that nobody has ever taken the time to put themselves in the sharks' shoes, or this case, fins. These predators are simply doing what nature expects them to, and for you to really understand what it means to be a shark through your Android device, you need a pretty good simulator or gaming app like the Hungry Shark APK.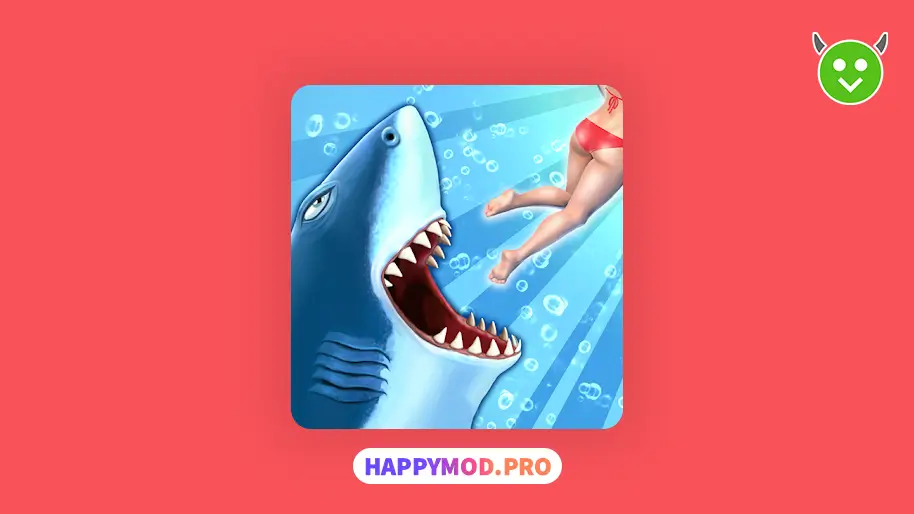 What is Hungry Shark APK?
Hungry Shark APK is a free 3-dimensional action game that throws you into the depths of the sea and allows you to take full control of a great white shark. Your mission as the predator is to go on a rampage and survive, against all odds, for as long as possible by gobbling down anything and anyone that stands in your way.
The ocean is your open world to explore as you discover mysterious creatures and choose your next meal among them. However, if you're hungry enough, you're more than welcome to devour everything in front of you. You can even recruit baby sharks to boost your skills and equip powerful gadgets for a more efficient hunt.
App Details
Features
---
Offline Mode
The game doesn't require an internet connection allowing you to play offline wherever you are.
3D Graphics
The graphics are in 3D and are amazing to look at. They also come with accurate sound effects to spice up the experience.
Open World
This is an open-world game, or rather the open sea, whereby players can explore different ocean parts while collecting points.
Accessories and upgrades
You can recruit baby sharks to enhance your skills and even earn enough points to accessorize our shark into the beast of the ocean with lasers, jetpacks, and even hats.
Shark Choices
There are several sharks to choose from, some of which you must unlock as you progress further into the game.
Download Hungry Shark Evolution APK for Android
One of the best parts about this gaming application is that you don't need an internet connection to play. There's so much to do under the sea and so many sunken objects to discover, which results in rewards.
While it does contain in-app purchases, you can collect gems and coins the old-fashioned way while playing or watching a few ads. Hungry Shark APK is available for download from the Google Play Store, but you can also find the latest version of its APK from the link below.
Mod Info
Unlimited Gems
Unlimited Coins
Recommended Game: Shadow Fight 2: Special Edition for Android
Final Words
With over 100 million downloads, the game has racked up quite the fan base. So, what are you waiting for? If you think it's easy being a shark, this game should prove you right. Download it today and enjoy your adventure in the deep blue waters.