When it comes to off-road or hill racing, it's less about speed and more about manoeuvring your way around the rough and rocky terrain. It's not always around putting your foot on the gas pedal and hoping to make it to the end of the finish line.
There are many obstacles along the way that requires a driver's tactics to find a way around them without crashing or exhausting some of their resources such as gas. Hill Climb Racing is an excellent example of a game that requires players to think like an actual driver in difficult situations while trying to make it to the finish without bombing out.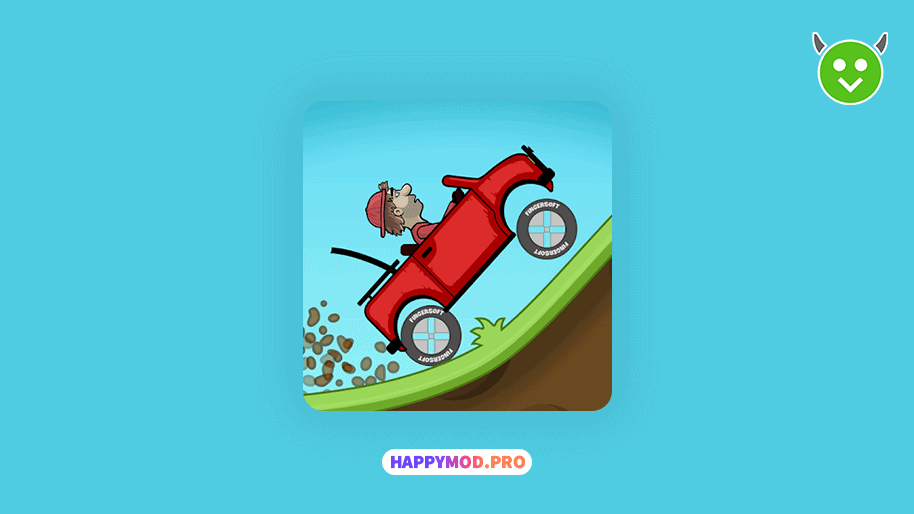 What is Hill Climb Racing APK?
Hill Climb Racing is a free road and platform racing game application whose main driver, Newton Bill, a determined uphill racer, journeys through rough terrains in an effort to finish without crashing down. The goal of the game is to get as far as possible with your car on various unique terrains like a nuclear plant, the moon, and even the famous Ragnarok whilst trying to avoid breakdowns.
Along the way, players would collect a variety of useful objects such as gas cans that can help them refill their tanks before running out. Also, players collect coins with which they can upgrade their vehicles or purchase new models suitable for other terrains.
If you are looking for the Hill Climb Racing 2 Mod version, then you better consider downloading our HappyMod Application on your device to get the latest version. Because we cannot post all the games here on this site.
App Details
| | |
| --- | --- |
| Name | Hill Climb Racing |
| Version | 1.60.1 |
| Developer | Fingersoft |
| Size | 61 MB |
| Last updated | December 01, 2023 |
Download Hill Climb Racing APK for Android
Hill Climb Racing defies the laws of physics through tricks that the player can perform while on the road to gain bonuses. As you progress in the game, you must keep your vehicles in check with regular maintenance and upgrades as you would with a real car to keep it going even further.
All you have to do to level up is ensure you make it to the end of every road trip. The game is enjoyable and can even be played offline. Get the latest version of Hill Climb Racing APK today from the link provided below.
Recommended game: Subway Surfers for Android
Features
---
Unlock Vehicles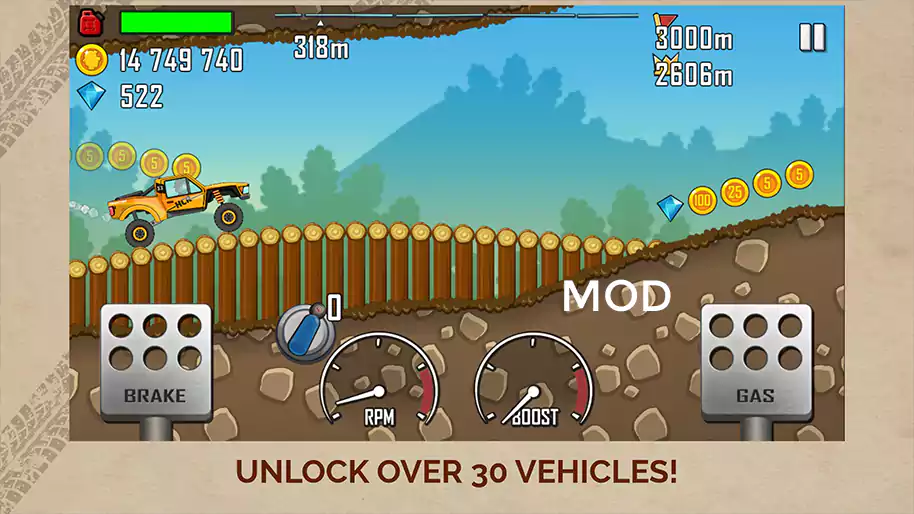 Unlock over 30+ vehicles to choose from each with its own mechanics and qualities. Similarly, while every vehicle can be driven in every terrain, their specifications make each one perfectly suitable for a specific road.
Upgrade Vehicles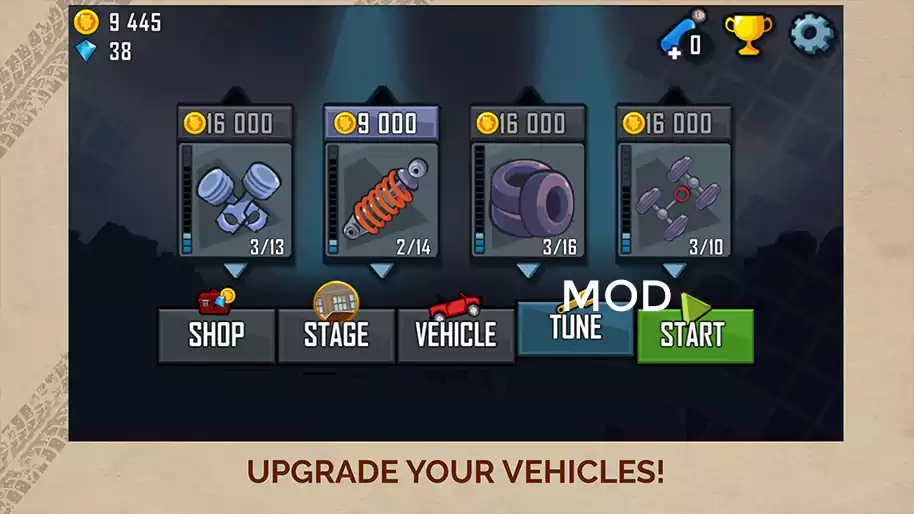 Like you would your own car, you can add upgrades to the vehicles in your garage to make them better suited for various terrains. Work on that engine, fix the suspensions and fine-tune your car to perfection.
Offline Mode
You don't need an internet connection to enjoy the experience that this game presents. Its offline mode allows you to continue with your missions at ease from the comfort of wherever you may be.
Customizable Vehicles
If you're looking to create something new, you can purchase custom parts and build your very own dream vehicle for every race.
Final Words
Just as in its name, Hill Climb Racing APK involves uphill terrains that are difficult to manoeuvre but easy to figure out once you get a hang of driving the available cars. The app is suitable for all ages and brings with it an amazing virtual road experience on your device.